BUOYANCY BALLOON AWARDS
Behaviour for learning is encouraged through the use of our Buoyancy Balloons and Badges of Honour which promote resilience, collaboration, effort and teamwork. As an extension of this and to promote children's well-being, Badges of Honour can be awarded as follows:
Green badge – for taking notice
Yellow badge – for positive attitudes and effort in learning
Blue badge – for being active
Red badge – for making connections with others
Purple badge – for giving
See the galleries on the left for previous winners.
Buoyancy Balloon Winners 19 July 2018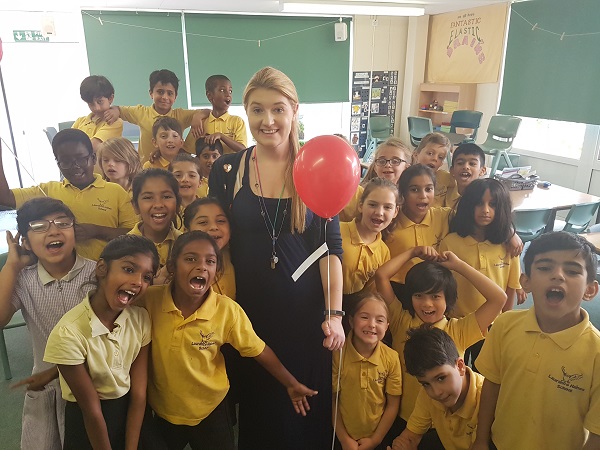 Kareem – Yellow. Kareem has made such amazing progress during his time at Laurance Haines and epitomises what this school is all about. Kareem is a great friend, not only to his own friends, but to all others in the year group. In lessons, he consistently tries his hardest, which has seen him make outstanding progress during his time in year 6. As part of the football team, he has represented the school maturely, even though he has not always played in every game. He has demonstrated superb sportsmanship, to both his own and the opposing team. Kareem has not always found work easy, but has not let this stop him and has proved what hard work can achieve. Mr Stephenson & Miss Cheung
Barbara – Yellow. She is a model student who consistently and constantly sets a good example to others around her with both her behaviour and her attitude to work. She has a fantastic work ethic and is always the first on task in class. She contributes to the wider life of school by taking part in dance competitions and the school choir and is always a role model when around younger children. Mr Stephenson & Miss Cheung
Zahra – Yellow. Zahra loves reading. She reads avidly at home and devours books, albeit electronically via apple books. She is always engaged when we are reading in class and is completely engrossed in the story's universe. She is able to answer questions about what is happening with the plot and infer deeper thoughts of different characters in the books.
Mr Stephenson & Miss Cheung
Momin - Red. We would like to nominate Momin because he is an extremely kind and caring boy. As the year has progressed, Momin has tried very hard and has been able to connect with a wider range of his peers. When he notices children on the playground or in the classroom that are alone or have no partner to work with, he will offer to help them and cheer them up. He also connects with a large number of staff in the school and likes to share his knowledge of topics he is passionate about (normally cars!!). Momin, you have a big heart and we hope that you continue to strengthen your relationships with your peers and staff next year. Miss Oliver & Miss Wolinska
Momin – Yellow. This year, Momin has made a huge improvement with his attitude towards school life in general. He now thoroughly enjoys coming to school and often says he wants to stay longer! He is also making a real effort with his learning in class. He is trying harder to contribute to all lessons across the curriculum, he likes to show his work and is happy to make changes to improve his work. When he can see he has made progress in something, he is extremely proud of himself and a huge grin spreads across his face. We are all very proud of your efforts Momin. Keep working hard next year! Miss Oliver & Miss Wolinska
Suragi – Purple. After discovering that one of the children was unable to take part in our dance performance, Suragi showed a great deal of bravery and kindness when she agreed to take on their role. Just 10 minutes before we were due to dance, Suragi learnt the whole routine. She did so well - thank you for saving the day Miss Tobie & Mrs Makinson
Mrs Pandit – Purple. Whenever I go to her intervention she helps me a lot and makes me very confident with my work. She also makes me laugh at the end of the lesson when we are finished. I have loads of fun working with her. Faris
Mr Clay – Purple. We would like to nominate Mr Clay for a purple badge because he helps all around the school. He fixes things and if he wasn't here things would still be broken for years. He never gives up on any problem or children. Scarlett, Skyla & Sanjitha
Mr Heath – Purple. Mr Heath comes in regularly to listen to the children read and is very generous with his time when it comes to sharing stories about their interests. He is an invaluable asset to the school and we thoroughly enjoy having him work in our room. The SEN team
Miss Thistlethwayte – Red. Since joining our school last September, Miss Thistlethwayte has made a lot of connections with a lot of people. In particular she has made strong connections with the children in her class through the exciting lessons she plans and the lovely activities the children enjoy. She will even go without a break to give her class Golden Time. When she remembers her "sneakers" she runs the daily mile. Palm Class
Miss Oliver – Red. Miss Oliver deserves this purple badge because she gives up a lot of her time to sort out our problems. She gives us happiness in our learning and she makes us laugh. She is good at drawing and helps us to draw, she helps us with every task. We will miss her. Momin & Pine Class
Miss Constable – Red. Miss Constable has made connections with lots of children in Year 2 and more recently across the school. She has also given up a lot of her time and energy to support Mrs Makinson with Proms in the Playground. She helped us a lot with our learning and helped us to sort things out. Hazel Class
Mrs Makinson – Purple. We would like to nominate Mrs Makinson for a balloon please. This is for her excellent job organising Proms in the Playground. She worked tirelessly organising the event, making sure the choir and recorder groups had regular rehearsals, organising the performers who would attend the event, sorting out the food stalls and tickets and much, much more. The event was a massive success and the feedback has been excellent and was thoroughly enjoyed by the parents and children. Mrs Goodall, Miss Lazarus, Miss Murphy, Mrs Dascalu, Mrs Furey and Mrs Snelling
Miss Whitefoord – Red. Miss Whitefoord has been an amazing teacher through the whole year. She tries to make our lessons as fun as possible and she is also an outstanding teacher. She is very creative and has shown us so many new creative ideas. Good luck in your new school. Yew Class