2018 Summer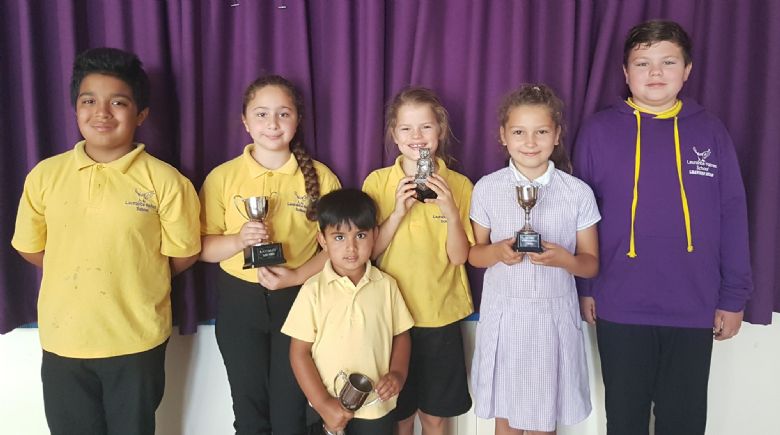 Roger Gibbs Award
Ms Delginova, for her outstanding contribution to the school over the year, helping the school to achieve the Green Flag Eco award, and for her outstanding planning and teaching.
Ridyard Environmental Award
Skyla was nominated as the Eco Councillor for her class at the beginning of the year and takes her role seriously often checking the recycling bins in the classroom. She also gives up her lunch and break times to help Mr Clay with litter picking. She leads a group of her friends to tirelessly tidy up the playground of all litter and place it in the correct recycling bin.
Maureen Leo Lunchtime Award
Aleisha - For always being polite and friendly to the kitchen team and offering constructive criticism when needed to help us improve our school meals
Anton - For always trying new things. Always being kind and considerate to others during service and for stepping in to help deliver the milk in the mornings when needed at the last minute.
Special End of Year Award – Atiq (Receiving a Powerleague voucher for a week's FREE Football camp) - This was a unanimous decision by the kitchen team as Atiq always greets the kitchen team with a smile, even after being at the back of a long line of hungry children. We can't remember a time when he hasn't said "please" and "thank you", which makes him a great role model for the younger children in the dinner hall.
Ashton Award
Over the Year Qais has made immense progress he has learnt to follow Laurance Haines Nursery rules and boundaries and has adapted to every day changes.
He will engage in all activities and has a great sense of adventure often saying "I can't do that I'm scared but overcomes his fears and challenges, he keeps trying until he has succeeded.
Qais is very well liked by his peers and has a great sense of humour and a charming smile to match his character Laurance Haines school are lucky to have him.
Slade Award
Beverley - Since the beginning of the year we have seen Beverley grow into a mature, hard-working and independent individual. This has been down to her own resilience and self-belief. She is always eager to help adults and her peers and she has had a positive impact on everyone in the class. At the beginning of the year Beverley had very little confidence in herself, however she is now so proud of the work she produces, she often askes to share it with other adults around the school.
Lassman Award
Tameena is an excellent student. She continually goes above and beyond to help her peers and teachers both in and out of the classroom. She is very thoughtful and kind, and is a wonderful friend to those around her. She tries her hardest in all areas of the curriculum and has a positive attitude towards learning. Tameena has also been involved in SNAG, giving up her break times to help and sometimes even run the tuck shop, which demonstrates her giving nature. She is an excellent role model, and I cannot think of a more deserving student of this award.
Platt Reading Award
Storm for his infectious love of reading.
RWI
Olivia