Watford Mayor attended our Eco Schools Green Flag Presentation Ceremony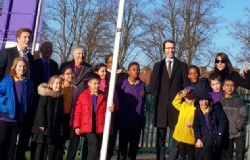 Laurance Haines features in the Watford Observer after our prestigious Green Flag Award Ceremony.
See the article here, which says:
"The eco-warriors at Laurance Haines School, in Vicarage Road, Watford, have been recycling as much as possible and installed a new water fountain to encourage children not to use plastic cups.
As a result of the changes, the school has been awarded an Eco-Schools green flag – an internationally recognised award for excellence in environmental action and learning.
Pupils, teachers, governors, and the mayor of Watford Peter Taylor were all in attendance for the unveiling of the flag on January 17.
The school's eco leader, Monika Delginova, has driven the change at the school and embedded eco lessons into the curriculum for pupils, which was acknowledged by head teacher Sebastian Gray who said it had inspired some of the children to join the Rivers Trust, which works to protect our rivers for both people and wildlife.
Mr Taylor added: "It was great to go to Laurance Haines School to celebrate their new internationally recognised eco award and raise their new green flag. I was so impressed by everything they were doing on the environment. The enthusiasm of the pupils and staff was fantastic. Their Eco Schools green flag is very well deserved."