Laurance Haines Children Feature in Autumn 2018's "About Watford" Magazine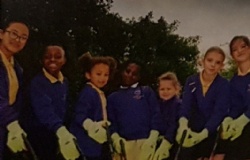 Laurance Haines children helped to kick-start the clean up of The River Colne last year, and feature in the Watford Government's magazine.
Laurance Haines children feature in the Autumn "About Watford" magazine, in an article about the clean up of the River Colne. As part of the clean up, almost 3000 plastic bottles were collected, plus 69 tyres, oil drums, tin cans and even wheelies bins. Laurance Haines was recently awarded the Eco Schools Green Flag award for their excellence in environmental education and activities.