Laurance Haines Awarded Quality Mark Award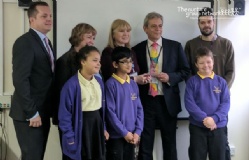 Nurture Group Network presented Laurance Haines with the Marjorie Boxall Quality Mark Award
Laurance Haines School was awarded the Majorie Boxall Quality Mark Award by the Nurture Group Network today. See their Facebook post here
"Well done to Laurance Haines School, Nic Fury and her team on achieving the #mbqma, well deserved.

Kevin Kibble, CEO of NGN said:
"Delighted to have been able to award the QMA to this fabulous nurture group".

At the presentation, there was singing from the school choir, with parents, governors, Head Teacher James Roach and the mayor in attendance."